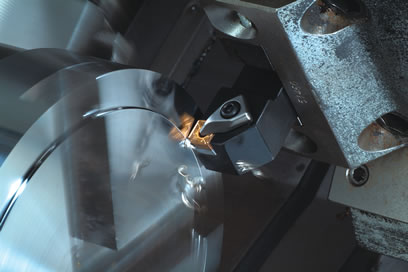 The development of coatings is essential to tools performance that ultimately increases the productivity. Global manufacturers and leading developers such as "Sumitomo Electric Hardmetal Corporation" is striving and meeting those continuous developments and demands.

Sumitomo Electric Hardmetal's new proprietary CVD process "Super FF Coat", produces ultra-FLAT coating boundary faces between coating layers with ultra-FINE coating particles to achieve higher reliability and longer tool life. This special coating employs similar characteristic of Al2O3 coating of a TiCN ceramic film, except with distinct characteristic of much thinner layers which provides it with a smooth crystal structure. This smooth surface which evolves from the melting prcess produces a ceramic crystalline purity which allows the control of parameters including: gas flow-rate, temperature, and presure. And processes such as gas introduction, film synthesis and gas exhaust system. This homogeneous coating layer of crystal structure, coupled with a fine smooth surface promotes exce lent adhesion and chipping resistance. Harder than conventional coatings offers huge improvement in wear resistance.
Sumitomo uses Super FF Coat for their inserts, with many grades to choose for all cutting requirements such as AC810P AC820P and AC830P for steel turning; AC410K for cast iron turning; AC610M and AC630M for stainless steel turning; ACP100 and ACK200 for cast iron and mild steel milling.In addition to its performance, the inserts longer tool life also has an indirect cost saving result. Tool change is reduced with limited maintenance which dramatically improves production and supply, ultimately saving the user valuable time and money. Inserts are important asset to a company or plant that work alongside machinery that cannot produce results without advanced inserts. This innovative creation has produced inserts with a technologically advanced coating "Super FF" with provides the industry with a solution to meet any requirement the industry has to offer.