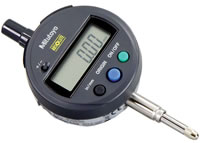 Measuring instruments are developed to cope with advanced manufacturing processes and more complicated quality control. However, this advancement brings along complicated measuring procedures too. For some work, an advanced instrument may not be necessary and is difficult to use. In many cases, simple equipment is the best – particularly for work that requires one or two measuring values where ease-of-use and cost effectiveness are a priority.
The ABS Digimatic Indicator ID-S Series from Mitutoyo emphasizes user friendliness while delivering high accuracy. They are compact, with approximately the same size of standard dial indicator. The large LCD display with 9 mm. characters makes it very easy to read and well positioned large push buttons give easy access.
As with other high efficienct instruments from Mitutoyo, the ABS Digimatic Indicator ID-S Series features ABS (Absolute) sensor function, Mitutoyo's proprietary technology, that removes the need to perform setup origin each time the tool is switched on and stops overspeed errors from occurring. In addition, these indicators have an output socket that makes it possible to send the data for further use including SPC.
ABS Digimatic Indicators have a measuring range of 12.7 mm. and a resolution of 0.01 and 0.001 mm. They are available in two versions; ID-SS, the world's first solar-powered Digimatic Indicator that is well suited for those factories concerned about the environment, and the SR44 button battery-powered ID-SX that provide approximately 20,000 hours of continuous use and comes with IP53 dust/water protection level.