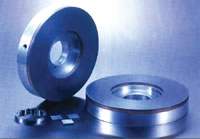 Grinding is an important process, especially for workpieces that require a high-quality surface finish such as those in the automotive industry or some electrical appliances. After use for a certain time, its grinding ability is decreased and the output workpiece will not meet the required quality. There are a number of factors that cause wear and inefficiency of the grinding wheel, but the main root cause lies in a poor trueing process.
MB Spark is a double disc metal bond grinding wheel developed using Electric-Discharge trueing, a process that improve the flatness of the abrasive layer better than other processes. Its highly rigid special metal bond increases the abrasive grain holding power, enabling better wear resistance. In addition, the user can adjust the flatness on the machine with no need to take the wheel off and set up again.
MB Spark posses better wear resistance compared with conventional resin bond wheels. The flatness of the abrasive layer minimizes tool adjustments and makes it ideal for automated production.