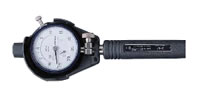 Mitutoyo, a world leading measuring tool maker from Japan, introduces the new dial bore gauge 511 series for determining the internal diameter which is the best selling now. This new dial bore gauge provides better accurate, user-friendly and more durable. The five outstanding improvements are;

1. More Accuracy The overall accuracy is improved by 50% or more, compared to the previous series; the wide range accuracy is better from 5 µm to 2 µm; repeatability rises from 2 µm to 0.5 µm, etc.
2. Larger Plunger Stroke The plunger stroke is extended from 1.2 mm to 1.6 mm or 33% larger, allowing more convenient and maintaining high accuracy.
3. Stronger Anvils The new carbide-ball contact point and anvil tip gives higher abrasion resistance with ~1,350 HV or more, and the better surface roughness with Ra 0.006, which almost never scratch the workpiece.
4. Better-designed Grip Larger grip size and hollow-structured design help reduce the heat from the operator's hands by 50%, retaining high accurate measurement.
5. Smoother Action with New Contacts The new contact geometry design allows smoother measurement actions, minimizing chance in workpiece's surface damage. Moreover its durability increases longer life span.