Since small diameter end mills(especially made of solid carbide) are easy to break during working, they are required to be highly precise in the chucking. The pencil mill chuck is an end mill holder specially developed to ensure this ultra high precision chucking for small end mills, attaining an incomparable high accuracy in the chucking.
High precision Runout within 8μ
Adopting the drawback collet, even the standard type guarantees the runout accuracy of within 8μ at 25mm distance from the holder's head.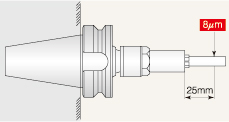 Super precision type (Special specification) Runout within 5μ
Super precision type guarantees the runout accuracy to be within 5μ at 25mm distance from the holder's head. For the super precision type, please order the holder with the collet having been set in together.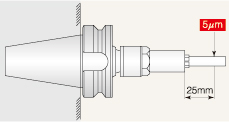 Method to secure a stable high precision
The conventional method to chuck the tool by the drawback type collet is to screw-in the threaded draw-bar which will also cause twisting of the collet and, accordingly, deteriorate the accuracy. The pencil mill chuck draws the collet straight without screwing the draw-bar without the collet being twisted, which will keep the accuracy to be stable.


How to set the collet and tool
1)Hold the square part of the collet's end and insert the collet into the holder.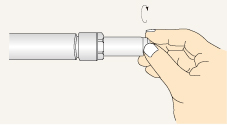 2)Insert the tool into this collet and turn the lock nut in CW direction by hand to be locked.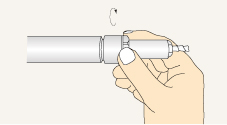 3)Tighten the lock nut with a spanner. (The spanner is a special accessory.)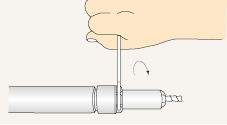 Can be used for a high speed cutting
Since each part of the pencil mill chuck is precisely made and is assembled well balanced, the chuck can be used for a precision cutting work without vibration even over 20,000min-1 of high speed cutting.
Easy tool chucking
The tool can be chucked easily only by tightening the lock nut in CW direction. The tool change as well as the collet change can be done only from holder's head end.
Slim head
he pencil mill chucks have two types. One is PCH6 for collet capa. of 3, 4 and 6mm, the other is PCH10 for collet capa. of 3, 4, 6, 8, and 10mm. Head diameter of PCH6 is 17mm and that of PCH10 is 23mm. These slim heads will prevent unnecessary collision with the workpiece and enable the tip of the end mill well visible, all of which will eventually improve the operation efficiency.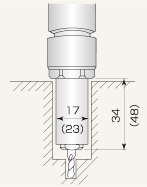 Spanners (Separate accessory)