Digimatic Indicators for calculation applications features both a Key- Lock and Parameter-Lock to prevent accidental changing of settings during operation.
Calculation function operates on spindle displacement.
Entering the appropriate formula factors for a fixture dedicated to the application enables direct measurement readout, thereby eliminating any need for the conversion tables previously needed for those applications where fixtures are typically used.
Fast measurement frequency allows the user to increase the number of readings per second from 10 to 50, allowing higher accuracy measurements of TIR and MAX/MIN.
Peak-Value TIR/MAX/MIN Hold enables GO/±NG judgement for peak value.
Simple operation of many functions with five buttons and status icons.
It performs sampling in fifty times per second and it enables to detect peak value more correctly.
Improved parameter setting software makes easy to set all available parameters, and determine and upload the proper coefficients for calculation. (optional)
Wide LCD and new analog bar graph are now standard on all models provides easy-to-read values when scanning for Max, Min, and TIR Values.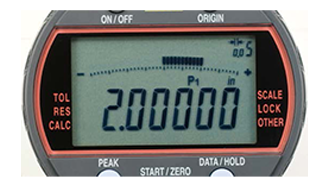 ---
Typical applications