An analog bar provides easy-to-read values when scanning for Max, Min and TIR Values.
The maximum, minimum or runout value can be displayed during measurement.
Go/no-go judgment is performed by setting the upper and lower tolerances for max., min. and runout values.
High speed sampling ratio of 50 times/s and it enables to detect peak value more correctly.
Employing the ABSOLUTE linear encoder, the Signal ID-C always displays the spindle Absolute Position from the origin when turned on.
Peak-Value TIR/MAX/MIN Hold enables GO/±NG judgement for peak value.
Simple operation of many functions with 5 buttons and status icons.
Wide LCD and new analog bar graph are now standard on all models.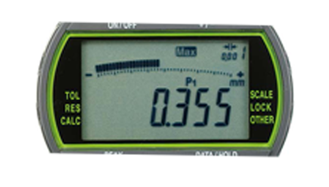 Parameter setting software makes it even eay to set all available parameters.