Integrated runout accuracy of 3μm
guaranteed with the collet holder system
A combination of the highly stable inside locknut system with popularly used Super G1 Chuck,enables minimizing the runout to the utmost limit. 3μm of integrated runout accuracy is guaranteed with standard Super G1 Chuck with a collet.
Easy operation of collet holder with higher
precision than that of shrink-fit holder
Hybrid G1 Chuck of collet holder system,having the same or better runout accuracy as that of the shrink-fit holders, does not require any other special equipment such as heating device, much curtailing the tool changing time.
Usable up to 50,000min-1
Simple and straight outside appearance, having no apace of the locknut,controls to minimize the aerodynamic noise and cutting fluid dispersion. Small-sized locknut enables minimizing the floating affection to the balancing.
Example of small pitch perforation in the least diameter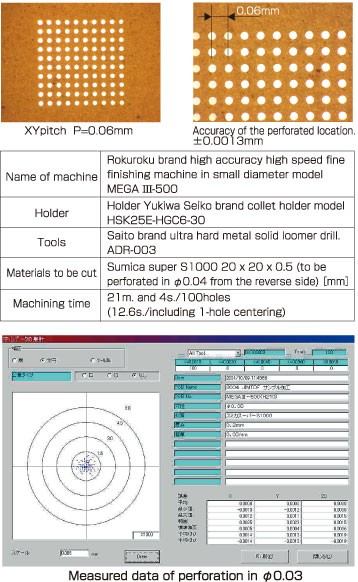 What means integrated runout Accuracy
| | |
| --- | --- |
| Indication of runout accuracy differs by each manufacturer. but YUKIWA guarantees accuracy at the point of 4d distance as the Integrated Runout Accuracy with a collet being set to the holder, practically same condition to the actual machining. Difference will be clear if compared to others. | |