Roller Clutch Mechanism
The conventional ball clutch mechanisms will make a frictional contact of the steel ball to the clutch, which will cause abrasion to the clutch and make the torque readjustment to be necessary after 10,000 or 20,000 times of clutching. On the other hand YUKIWA's double roller clutch mechanism will not need readjustment even after 250,000 times of clutching.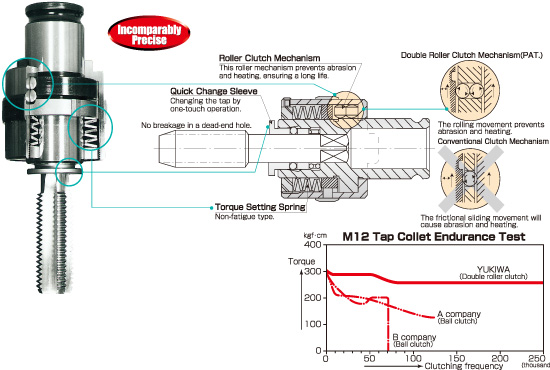 Computer-calculated perfect spring arrangement
Since the torque setting spring is ideally designed by computer to match with the size of the tap, it will withstand a long time of usage without fatigue.
Quick change system
The one-touch changing of the tap and the collet as well will improve the work efficiency.
Built-in axial float mechanism
The pitch error between the tap threads and the feeding is compensated by the built-in axial float mechanism (tension/compression mechanism), which will assure a precise tapping.
How to set and release the tap collet
【Setting】
1:When the tap collet is pushed into the holder, the cover with a knurled ring will protrude and lock the collet. At this time, the pin-hole must be aligned with the F-mark.
2:Turn the knurl ringed cover to left until the pin-hole to align with the L-mark. This is the double-locked position.
【Releasing】
1:Push the cover with a knurled ring toward the holder side about 2mm and turn it to right until the pin-hole is aligned with F-mark.
2:Push the cover again, then the tap collet will be detached.