This issue of Blue Update wishes to introduce "Automatic MeasurLink Instruments"  that can help those responsible for the quality control system to instantly fix these types of problems.There will be absolutely no benefit should we be able to send products to customers, but during the production process there are errors which mean that the quality of some products are not as required and then they need to be reworked or disposed of. This wastes both time and resources.
Mostly, factories will control quality using statistical process control SPC to control variables which are measured as numbers. When looking into the working process, it will be found that the various measurement data that employees record and input into a computer program or plot as a graph in the control chart at each stage will have frequent mistakes.
At the measurement stage, it is found that employees often have their own bias and will not record the true data or they will make errors. If we adjust the measurement system to be automatic and use precision, high-quality digital measuring tools, this will help reduce these types of errors.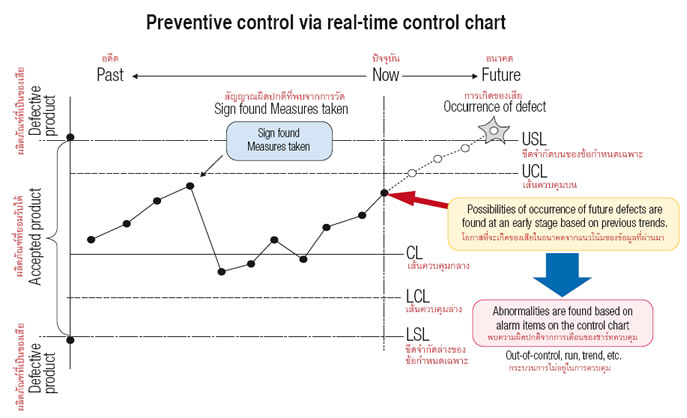 Precision digital measuring tools, such as micrometer caliper, dial gauges, dial test indicators and height gauges (especially the measuring tools of Mitutoyo that have the SPC symbol, a symbol indicating that such tool can connect with and send measurement data to a computer) can allow instant analysis of data through the MeasurLink Real Time Plus (which can display the data as numeric or as various types of graphs) if a measurement system has been implemented for all work units via a network (LAN or internet).
This enables the supervisor or quality control manager to be aware of any problems in production and solve them instantly. Even if no problem has occurred, a plan can be put in place to protect against potential occurrences. Thus, having automatic measuring tools that can connect with a computer will help to stop losses that may occur. Other than raising standards in the quality management system, they also increase the confidence of customers.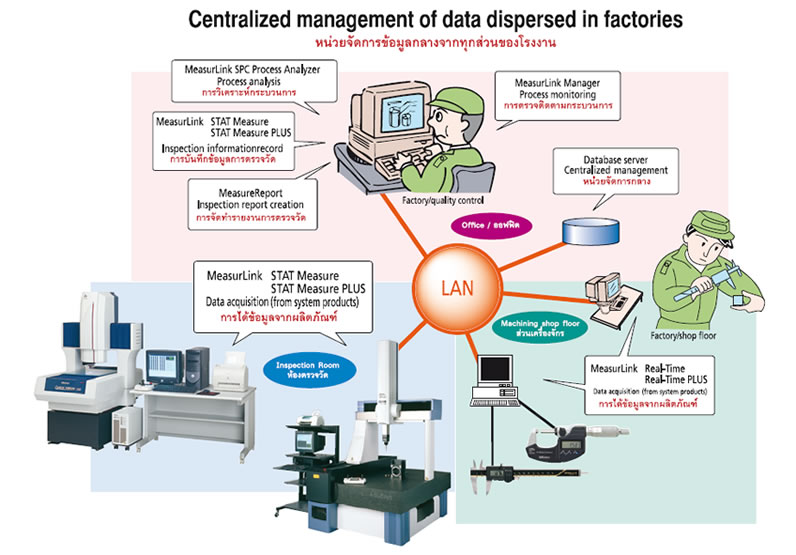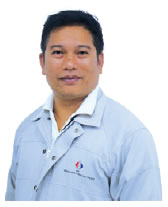 Anusorn Tonmueanwai Chief of Laboratory, Acting Chief – Dimensional Metrology section National Institute of Metrology, Ministry of Science and Technology, Thailand With over 20 years of professional experience in metrology and an invited lecturer at the Faculty of Engineering, King Mongkut's University of Technology Thonburi