Dismantled Section Drawing
---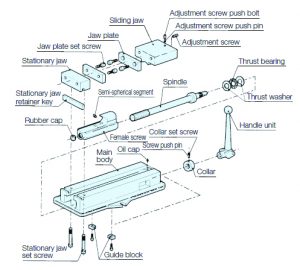 Ordering Parallel Products
---
(A and B can be aligned within 0.01 no matter how many pieces)
If the suffix of the manufacture no. (attached to the outer box and main body) is the same letter, then the product are parallel no matter how many pieces (for standard guide blocks). There is no charge for parallel products.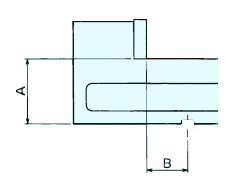 ◆When purchasing for the first time
Order matched specification products (suffix G) When ordering, specify the groove width of the machine you are using.
◆For additional orders
Contact us with the suffix letter of the manufacture no. (stamped on the name plate) and the guide block width of a vise that you have.
Increasing the Jaw Opening
---
A large jaw opening can be obtained by changing the jaw plate positions.
◆Jaw opening depending on the jaw plate attachment position
| | | | | |
| --- | --- | --- | --- | --- |
| | | | | |
| LT100M | 0 – 102 | 48 – 150 | 115 – 217 | 163 – 265 |
| LT125M | 0 – 112 | 56 – 168 | 140 – 252 | 196 – 308 |
| LT150M | 0 – 143 | 63 – 206 | 160 – 303 | 223 – 366 |
| LT200M | 0 – 190 | 85 – 275 | 199 – 389 | 284 – 474 |
| LT250M | 0 – 248 | 110 – 358 | 233 – 501 | 366 – 614 |
◆How to move the jaw plates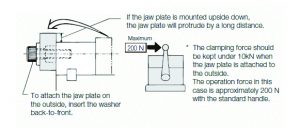 Accuracy Standards (Static Accuracy)
---
No.
Inspection Points (per 100 mm)
Former JIS
Standard
(O Grade)
Nabeya
SPEC
1
Parallelism between bottom surface of main body and sliding surface
0.015
0.010
2
Perpendicularity between jaw plate and sliding surface (smaller than right angle)
0.030
0.015
3
Perpendicularity between T-slot and jaw plate surface of stationary jaw side.
0.015
0.010
4
Parallelism between T-slot and jaw plate surface of stationary jaw side.
0.015
0.010
5
Parallelism between bottom surface of rotating table and sliding surface
0.020
0.015
6
Parallelism between the bottom surface and top surface of the rotating table
–
0.010
(Clamping Accuracy)
7
Parallelism between top surface of clamped test block and bottom surface of main body
0.020
0.015
8
Parallelism between top surface of clamped test block and bottom surface of rotating table
0.030
0.020
9
Lift-up of top surface of test block when clamped
0.030
0.015