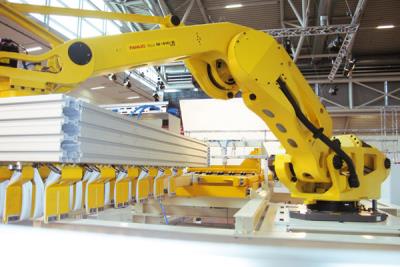 The palletiser – designed specifically for the job, this series increases throughput on palletising and handling applications. With a capacity up to 700 kg and a reach up to 3.1 m, the 4 or 5 axis M-410 parallel link robot series is ideal for handling medium to heavy payloads. FANUC was one of the first robot suppliers to develop a series specifically designed for palletising and draws on years of experience in end of line automation.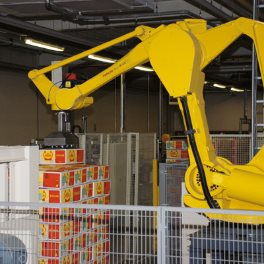 The workspace difference
Operating within an optimised work space and benefiting from a high vertical stroke, the M-410 palletising robot is specifically designed to stack pallets up to a height of 2 metres. The integrated base and controller in the pedestal (non-pedestal version is also available) not only saves floor space but also makes transportation and installation easier.
Highlights of M-410 industrial robots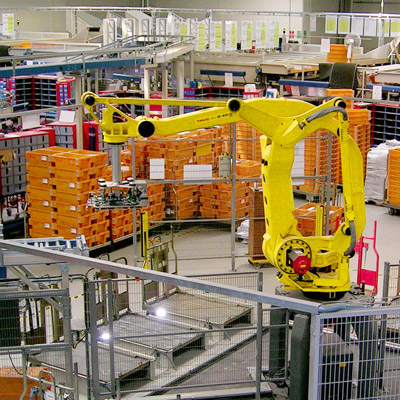 Designed specifically for palletising
Designed specifically to increase throughput on palletising operations, the M-410 series is capable of multiple palletising configurations and features a large vertical work envelope.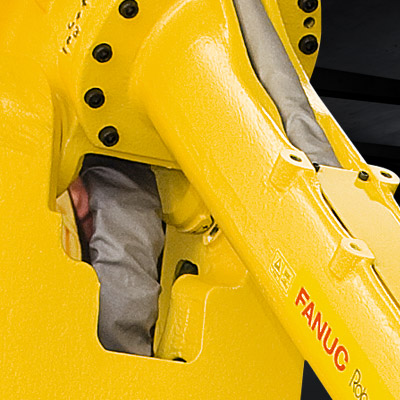 Smart cable management in hollow wrist
Internal cable routing through the wrist prevents cable interference and increases cable life.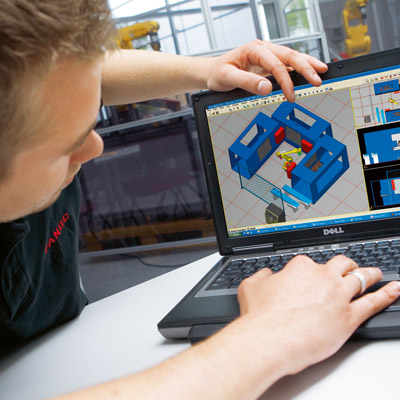 Get an insight into your application
By simulating your production scenario, Roboguide shows you exactly what the M-410 can do for you and where the savings lie.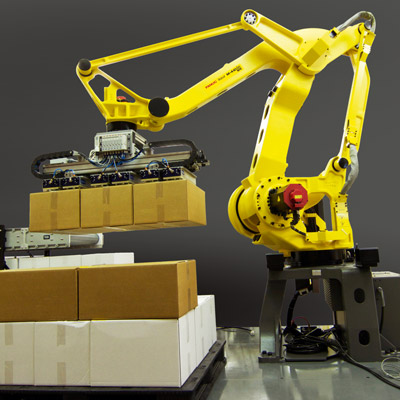 High operating speeds
High wrist moments and inertia mean the M-410 can handle large grippers and heavy payloads at maximum speed.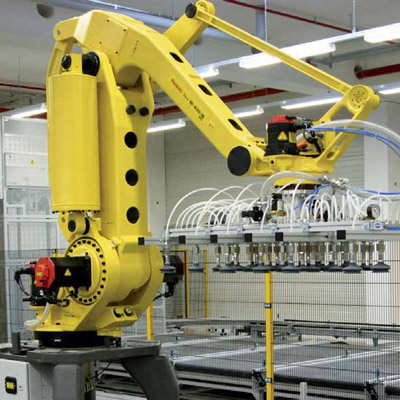 Optional servo hand
For better adaptability in handling different sized products, the M-410 can also be fitted with a servo hand that is controlled by the 6 axes servo.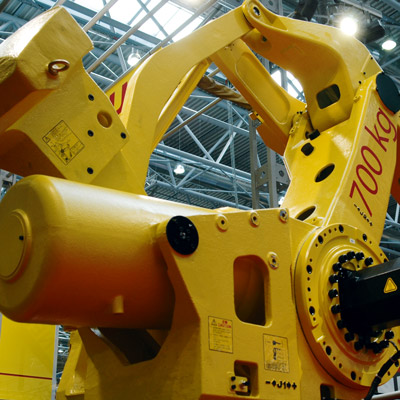 Select the right palletiser for you
With models capable of handling anything from 110 to 700 kg payloads, whether it be boxes, bags or slabs of concrete, there is a M-410 for every palletising job.