FANUC Robot CR-4iA, 7iA, 7iA/L, and 14iA/L are human arm sized mini-collaborative robots.
The small collaborative robot applies various manufacturing processes such as small electrical parts transfer and assembly.
4 models with different load capacity and reach are available, depending on the application.

CR-4

i

A is a small collaborative robot with 4 kg payload
CR-7

i

A, CR-7

i

A/L are with 7kg payload.
CR-14iA are with 14kg payload.

It allows for a collaborative operation with human operators due to no need of safety fences
Enables to locate the robots close together in the manufacturing processes where operators also work, with using the compact size.
A floor space can be used effectively by up-side down. It supports ceiling and wall mount type, so that it allows to operate in a wider motion range without disturbing operators' work space.
It is easy to relocate the robot by a cart with casters due to its light weight.
it realizes a flexible layout using with iRVision (integrated vision).
The green color, which is the feature of collaborative robot, makes difference from FANUC's yellow robot and enables to recognize it as a safety robot at a glance.
The expansion of "Green robot" lineup, which enables to work with operators collaboratively, is sure to contribute to new automatization of manufacturing industries.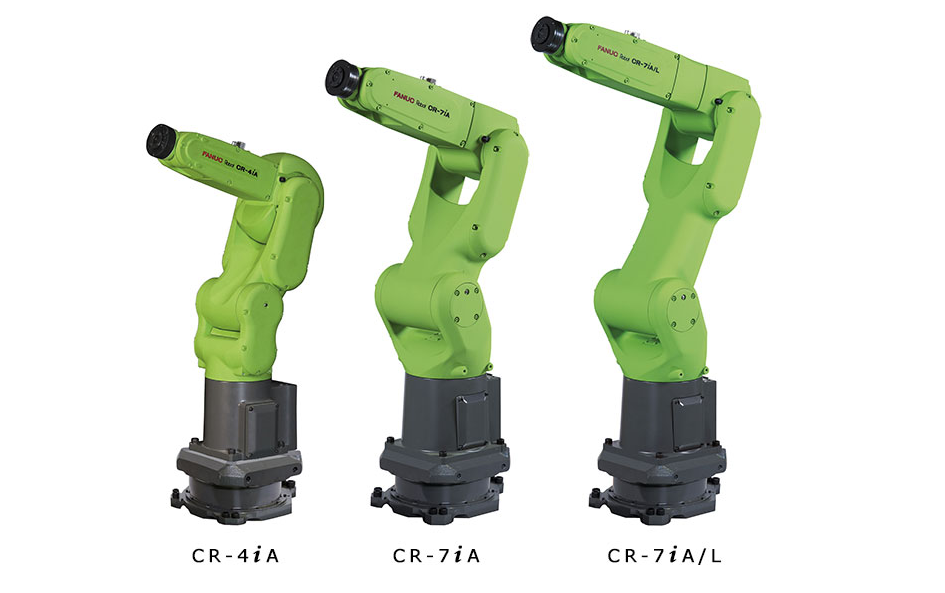 ---
Collaborative Operation
This robot and a human operator can work separately in close proximity without safety fences.
This robot can work in cooperation with a human operator. (examples: parts assembling, workpiece transfer)
With Small Hand Guidance(option), intuitive operation and easy teaching are possible.
---
Safety Function
This robot immediately and safely stops when it touches a human operator.
A human operator can move the robot by pushing it.
This robot is certified to meet the requirements of international standard ISO 10218-1.
---
Intelligence and High Reliability
Latest intelligent functions such as iRVision (Integrated vision) and force sensor are available.
This robot is designed with high reliability, based on the proven LR Mate models.
---
Application Examples