Strong Adsorption Forces 6150N,
… but least chips on work-surfaces(per pole of dia.70mm under Max conditions)
Cutting thrust on milling is not in the same directions, so need strong adsorption force. Each magnetic pole contains strong neodymium magnets to generate strong force. As Magnetism fl ows from N pole to S pole within workpiece, least chips on workpieces.

Operating Efficiency Improvement
Manual jigs need tool operations, but magnetic chuck only push the buttons

Process integrations
No interference on cutting tools being clamped from the bottom.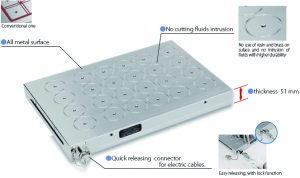 Operating procedure (easy operation) Only push buttons and connectors detachable.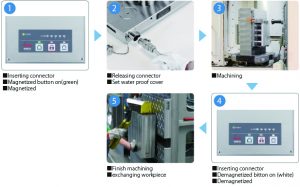 Custom Made, MTB Chuck
Sometimes, Standard Magnetic chucks can not be placed on machine table due to irregular table shape.
Custom made magnetic chuck can be manufactured for such kind of customers.
Standard MTB506HD70 / Custom Made MTB506HD70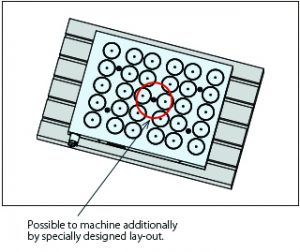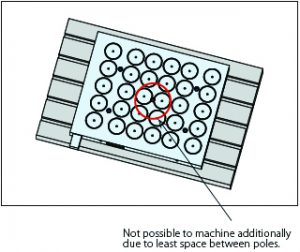 Examples for custom made MTB chucks
①Change the pitch of magnetic poles.
②Change the outside dimensions.
③Delete clamping grooves on both sides.
There can be some restrictions on making custom made chucks.